The Easy Way to Make Money Online (Part 1)
I think a lot of people out there are trying to make online marketing seem a lot more complicated than it actually is… telling you that you need all these software tools, and you need all these rules and guidelines to be able to make a pretty good consistent online income or a full-time income to be able to quit your job.
The reality of this is that it is not that hard… it really does not require that much, you only need to do a few things.
If I asked you how many hours per week do you think you would need to be able to build a full-time business online, do you think it would be 40 hours per week, 80 hours per week, 4 hours per week, or less than that?
I think that most people would think that it would take quite a long time to build up a consistent passive autopilot income, but the reality is is that it's actually less than that, because this is the kind of strategies that once you build it, and you set it… you set it and you forget it!
So it's basically like once you have this setup, it's going to roll in commissions forever for you, so if you spend a weekend putting one of these funnels together you could potentially get a full-time income from one weekend of work!
Now that's pretty powerful stuff that you're definitely not going to get in the nine-to-five workplace!
So below, I want to go over the rest of my strategy, and also feel free to give me some comments below on what you think is kind of confusing or complicated and I'll answer any questions you have.
The two things that you need to create…
Basically, there are two steps to this whole system, and like I said people try and make it really complicated, but it's really two simple steps that you need to complete in order to be able to get your full-time online income.
First of all, you need to collect email addresses!
You need to build a list of people that are interested in your market.
So, in this case, I'm going after the make money online market…
I want to be able to get email addresses from people that are interested in that stuff…
So step number one is getting subscribers!
Step number two is promoting to those subscribers!
So all of this nonsense about you need to do XYZ is completely not true.
Get the email address…
Promote to the email address…
It's as simple as that!
Now that might be simplifying a little bit… the other thing that you want to add in there is that you want to actually help people out…
Because the more that you help people out the more they're going to be willing to open their credit cards and make purchases through you, but I'm just going to quickly go over the how-to of this whole thing, because I've talked about the benefits of the laptop lifestyle before, but let's talk about how you can actually achieve this.
Create a landing page
So the first thing you need is a landing page.
So this right below is one of my many landing pages that I have online, and I'm going to share a couple other ones with you as well, but for starters let's take a look at this landing page.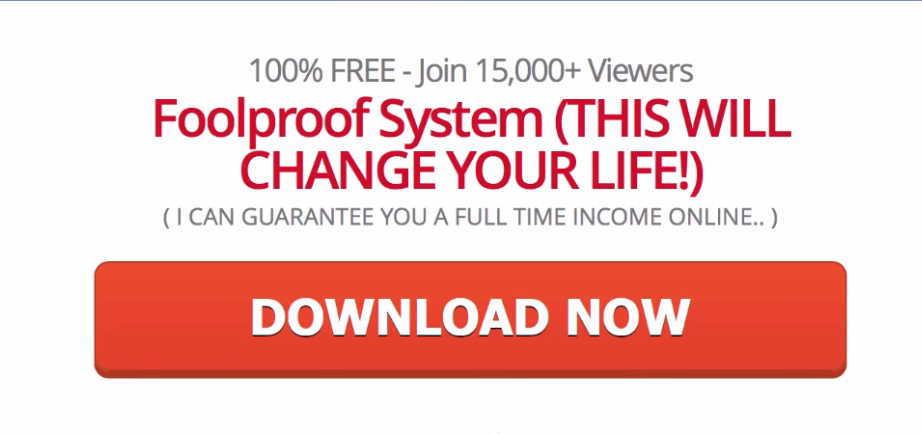 So it's pretty simple…
Basically I'm promising people that visit this page something of value for free, and usually, I pay for this traffic through solo ads or pay-per-click advertising of some sort. (And also free traffic from SEO and social media)
I pay a certain amount of money and I get people to this page.
Once they get to this page, a very high percentage of them are going to decide to give me their email address.
When you click on the download now button it actually opens up to give the viewer at the time the option of entering their email address to get the stuff that I'm promising them, so that's pretty cool stuff right?
I have a number of these online and they're all very very high converting, so this is the most difficult step in your process… but don't worry because even though this may seem difficult I'm going to show you how you can get it done really quickly and easily just by using one, really cool tool. (In part 2)
I don't recommend a ton of tools, but there are some tools that are going to expedite this making money online process for you.
I'll show you another example.
So here's another squeeze page that converts at about 60-70 per cent.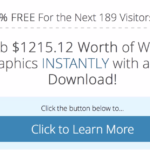 So, 60 to 70 per cent of people that actually visit this page end up giving me their email address.
Now again you are probably saying, but John, where do I even submit my email address on here, how the heck are you going to collect anything?
Again, this has a 2-step button option…
So the top headline, I'm giving a proposition of value to people…
Then, I'm saying "hey, grab this thing of value" and in this case, it's over $1,000 worth of website graphics you can get it instantly with a free download, click on this button to learn more.
So when they click on the button it's going to open up and ask them for their email address.
This is what's called a micro-commitment in marketing.
Basically, you're getting someone to complete a small task at very low risk or low danger to them, and once they've completed that small task, now you're off asking for their email address… which is the slightly more cumbersome task… but because they've already kind of micro-committed or made a small action towards that completion, they're more likely to complete the process for you.
So now they're going to enter their email address and it's going to take them to a sales page.
The Sales Page
Now, remember, I said this whole thing… this whole complicated thing that people like to blow out of complete proportion here, is really about two steps…
Getting the email address…
And promoting them stuff!
That's it!
So after they enter their email address and click on the download, now it's going to say "your gift has been emailed to you, but before you go you might be interested to see this" and it's going to take them to a sales page.
So you see how that works?
We have the landing page, the lead capture page, and once the visitor decides to opt in there (and not all are but a good portion will.) So let's say 70 per cent…
60 to 70% decide to enter their email address on that landing page, now you just promote them stuff…
Here's an example offer to promote called "Two Hundred and Twenty Minutes" and this is where it gets really easy because I did not create this product… this is not my product, this is an offer you can promote as an affiliate!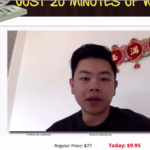 A lot of people think that to be able to make this online thing work you have to create your own product, which a lot of us think, "well, that's going to take me a couple hundred hours, and I don't really feel comfortable in front of a video, and I don't want to create it myself"…
But that's just not the case at!
In fact, you can actually more easily,  just grab affiliate links and promote other people's stuff… and often for pretty good conversion rates!
So this product, for example, comes with a hundred per cent commission rate.
Which means that every time I make a sale, I get a hundred per cent of the money!
Now though, the one piece of advice I have for you for your first product that you show people is to make it affordable… because right after someone decides to subscribe to one of your landing pages, they are pretty hotly interested in to what you're talking about… but they're not really ready to spend hundreds of dollars yet!
They're only really ready to spend (the research shows) between seven to twenty-seven dollars… I kind of like the ten to fifteen dollar range, because then I find I'm a lot more likely to get the impulse buys… people that are just there at the moment, and they want to learn how to make money online in that second, and they're not really that afraid of spending  what it costs for a couple of cappuccinos to get some information on what they're searching for.
So that price range tends to do the best.
After that, why did we even bother to get their email address?
Well, the reason why we wanted to get their email address is that we wanted to be able to set them up in our autoresponder sequence…
Setting up your Email Autoresponder Sequence
The autoresponder sequence that I use is Aweber.
So here is an Aweber account that has around 10,000 subscribers.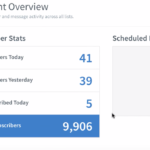 Basically what happens is you get them into your autoresponder sequence…
So once someone subscribes to your landing page they're now put into your autoresponder.
What an autoresponder does, is it sends them subsequent emails when you set it to send out automatically…
So it automates the entire email sending process for you!
So again, it's a whole set it, and forget it kind of a tool!
Because you're setting up these emails in advance and you're saying that every time a new subscriber joins your email list they're going to be taken to the first email, and then they're going to be taken to the second email, then the third email, and so on and so on…
But everyone is on their own schedule!
It's not like you got a subscriber today on email number one, and then when you get a subscriber a week from now, they're on message seven…
No… the first subscribers that you subscribe to your landing page are going to be on message seven or eight and the new subscribers are always going to go to message number one and everything in between…
So once you get thousands of subscribers going through your autoresponder sequence opening up all these emails, it's going to get really good results for you, and for your affiliate sales!
So autoresponder sequences are an absolute must!
Now the autoresponder service that I use is Aweber!
Aweber is hands down the best autoresponder sequence that I've ever used and I've used a ton of them…
The other one that wasn't too bad was Get Response.
Other than that I haven't had good luck with autoresponders.
Aweber is easily my favourite, and it's pretty fortunate for newbies because Aweber comes with the first month free!
So I'm going to leave an offer link to Aweber below, if you want to get your first month completely for free and check it out before you make any serious investments of this software tool autoresponder, then I highly recommend that you get it through that link…
Okay, so the next step after you get subscribed to your autoresponder sequence is to get your autoresponder sequence in place…
=>> Click Here For Your Free 30-day Trial of Aweber <<=
Enter the Sharing Code: awlist5176889-82d6e-$F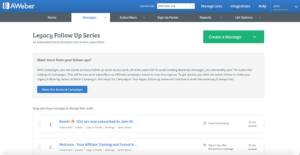 Now again you are probably thinking "holy smokes! Your autoresponder sequence has a ton of messages here, (and it actually has over three hundred to be exact) it's going to take me forever to create an autoresponder sequence"
Well no, that's not exactly true, because I have a little bit of a gift that I'm willing to give you!
Aweber actually comes with a campaign sharing option, which means that fellow marketers can decide to share their autoresponder sequences to each other…
So I have the autoresponder sequence that I've been given from one of my mentors that he easily makes over $10,000 a month (at least) from and that he has also spent about a couple years creating and tweaking to maximize his conversion rate.
I've also spent the last few months adding in my own successful email swipes and tweaking it myself!
I'm willing to give away my entire Aweber campaign sharing code to my subscribers and website visitors, completely free of charge!
So, I'm going to leave that below as well!
So if you want that campaign sharing code make sure that you grab it for yourself and load it up now!
Just customise it for your own style and brand, and add in your own affiliate links!
=>> Click Here For Your Free 30-day Trial of Aweber <<=
Enter the Sharing Code: awlist5176889-82d6e-$F
Now, you may not want every single message in the autoresponder sequence that I have in mine… but I will tell you that this autoresponder sequence is pretty high converting… but let's say that you there are certain emails that you don't want to have included, you can easily click on the delete button to get rid of anything you want!
You can also rearrange these easily by dragging and dropping and moving them around and you can adjust how often you send them out.
I found that the best results from autoresponder sequences, are honestly when you just send an email a day…
Because then people become familiar with you!
When you start adding things like seven days, eight days, four days, five days, in between each message, people forget who you are because, in this world that we live in, where we're getting so many emails all the time from so many different people, and being presented with so many different offers…  as soon as you go away for a bit people forget about you!
It can all get a bit complicated, so it's better to just keep it simple.
So I email daily to remind people that I'm here and I promote good stuff! ?
In part 2 of this series, I will go into more detail about this autoresponder sequence, sending emails in general, and also building out your landing page, so stay tuned!
The Easy Way to Make Money Online (Part 2) – Coming Soon!
If you have any questions or comments feel free to leave them below.
To your freedom,
John W. Newman
Helping you create TIME AND FINANCIAL FREEDOM by building a PROFITABLE Business Online!
Dream It… Believe It… Then Achieve It!
*Affiliate Disclaimer: While we receive affiliate compensation for reviews/promotions on this page, we always offer an honest opinion, relevant experiences and genuine views related to the product or service itself. Our goal is to help you make the best purchasing decisions, however, the views and opinions expressed are ours only. As always you should do your own due diligence to verify any claims, results and statistics before making any kind of purchase. Clicking links or purchasing products recommended on this page may generate income for this website from affiliate commissions and you should assume we are compensated for any purchases you make.
As found on Youtube